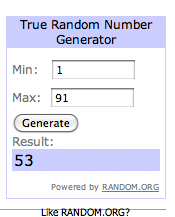 First let me say a huge thank you to all of our donors. Please take a moment and fan them on Facebook and visit their websites (links are below)! It was very generous for each of them to donate their wonderful products to this amazing giveaway. Secondly let me thank YOU for your contributions. Between the two sites, Mom*Tog and PCB we were able to generate $3600 to BeRemedy! Drew said Blake sent her a message last night saying that our donations were coming at the perfect time and that there is a big story developing. It will be a thrill to see how the funds help everyone in need. I will make sure I let you all know when I hear what happens!
and the winner is....
Comment #53 Jana · CONGRATULATIONS! Can you drop me a note letting me know the best address to contact you at!
Please Visit our Vendors
The Prizes & Vendors
BadSass Backdrops · Website · Facebook
Brand Camp Blog · Website · Facebook
Click Workshop · Website · Facebook
Clickin Moms · Website · Facebook
Crave Photography · Website · Facebook
Lil Blue Boo · Website · Facebook
Michelle Kane Photography · Website · Facebook
New Vintage Designs · Etsy Shop · Facebook · Use code PCBFAN15 For 15% off the Etsy store
The Organic Bloom · Website · Facebook
Photo Card Boutique · Website · Facebook
Pink Ink Studios · Website · Facebook
Rock the Shot Forum · Website · Facebook
Savor Photography · Website · Facebook
SmileBooks · Website · Facebook
Tara Staton Captivate Photog · Website · Facebook
The Joy Bag · Website · Facebook
The Savvy Photographer · Website · Facebook
Wall Display Guides · Website · Facebook